COVID-19 Schedule Adjustments
Due to the coronavirus outbreak our events for the near future have been suspended. Our formal concert that was planned for late spring has been postponed for a date to be determined after social restrictions can be relaxed. All rehearsals and other events for the spring have been canceled. No decisions have been made yet for summer events, but we will evaluate them as the time comes, considering the safety of our members and our audiences and the guidance of public health officials.
We hope to be able to gather again soon to make music together and share it with our community, but in the meantime, we hope everyone stays health and safe.
Winds at the Winery - A Festival of Community Bands
Thursday, July 28, 2016 -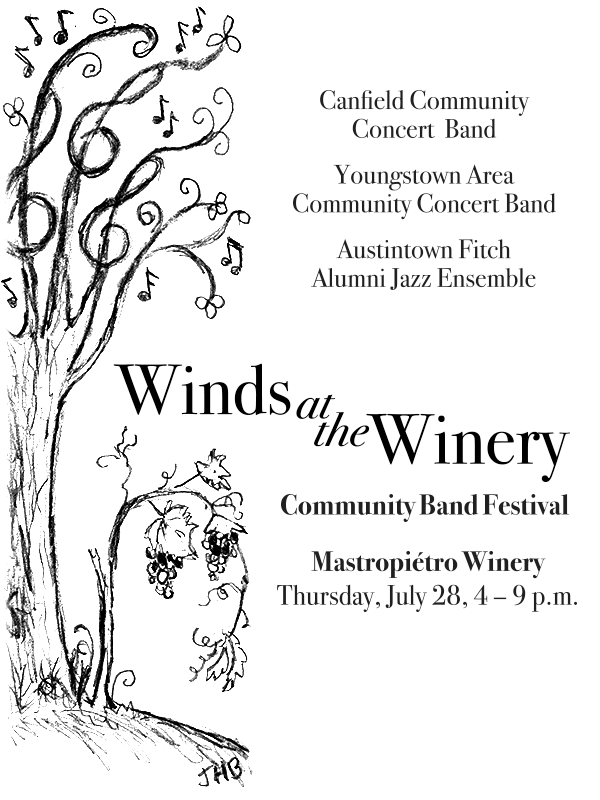 We are pleased to present the first annual Winds at the Winery Community Band Festival!
Food and Wine* will be available for purchase throughout the event. Performances by small woodwind and brass ensembles will provide musical entertainment on the patio from 4:15 - 5:45. Performances by the Canfield Community Concert Band, Younstown Area Community Concert Band, and Austintown Fitch Alumni Jazz Band will start at 6. The evening will conclude with a combined performance of Stars & Stripes Forever by all three bands.
There will be a 50/50 drawing and a basket raffle, and donations will be accepted, all to benefit Lifebanc in support of Organ, Eye, and Tissue donation.
Wine will be available for purchase from the winery and food and snacks will be available from food trucks or the winery. You may bring your own food, however Ohio law prohibits anyone from bringing alcoholic beverages onto Winery property. Picnic tables and chairs will be available on a first come first serve basis, but you are welcome to bring lawn chairs or blankets and sit on the lawn.
Event Schedule
4:00 pm

Event Opens to the Public
Canfield Community Concert Band French Horn Ensemble Performs on the Patio

4:20 pm

Canfield Community Concert Band Flute Choir Performs on the Patio

5:00 pm

"Take Five" Brass Quintet Performs on the Patio

6:00 pm

Canfield Community Concert Band Performs on the Gazebo

7:00 pm

Youngstown Area Community Concert Band Performs on the Gazebo

7:40 pm

Canfield Community Concert Band Woodwind Quintet Performs on the Patio

8:00 pm

Austintown-Fitch Alumni Jazz Band Performs on the Gazebo

8:45 pm

50/50 and Basket Raffle Winners Announced
Acknowledgements

9:00 pm

"Stars and Stripes Forever" Grand Finale featuring all participating musicians at the Gazebo
Event Location
14558 Ellsworth Road, Berlin Center, OH 44401