6th Annual Winds at the Winery Community Band Festival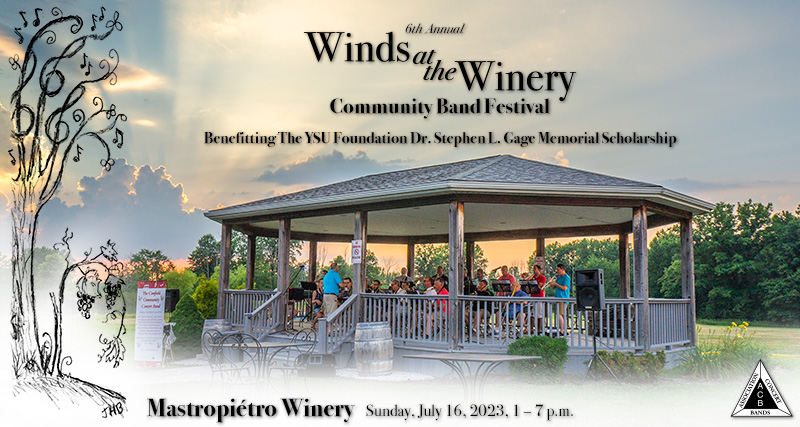 We are delighted to announce that the 6th Annual Winds at the Winery Community Band Festival has be scheduled for July 16, 2023! Spend a summer afternoon at the winery and enjoy several local community bands. Food, wine, and beer will be available for purchase while performances by several local bands will take place throughout the afternoon, starting at 1.
Funds will be raised to benefit the YSU Foundation Dr. Stephen L. Gage Memorial Scholarship.
Food will be available for purchase from the Winery and Monaco's Food Truck. Wine and beer will also be available for purchase from the winery. You may bring your own food and soft drinks, however Ohio law prohibits anyone from bringing alcoholic beverages onto Winery property. Picnic tables and chairs will be available on a first come first serve basis, but you are welcome to bring lawn chairs or blankets and sit on the lawn.
Dr. Gage had a profound influence on so many of us and the music world was stunned by his passing earlier this year. Many members of the bands performing today were students of Dr. Gage and our directors both studied conducting with him. Throughout his career he not only told his students to "Love Music", but he truly lived that motto himself.
As members of community bands, many of us are in professions other than music. We play because we truly love music. We hope you'll spend the day with us celebrating our love of music and an amazing teacher. Proceeds from our raffle, bake sale, and donations will support the scholarship fund at YSU in Dr. Gage's memory.
Event Schedule
About the Ensembles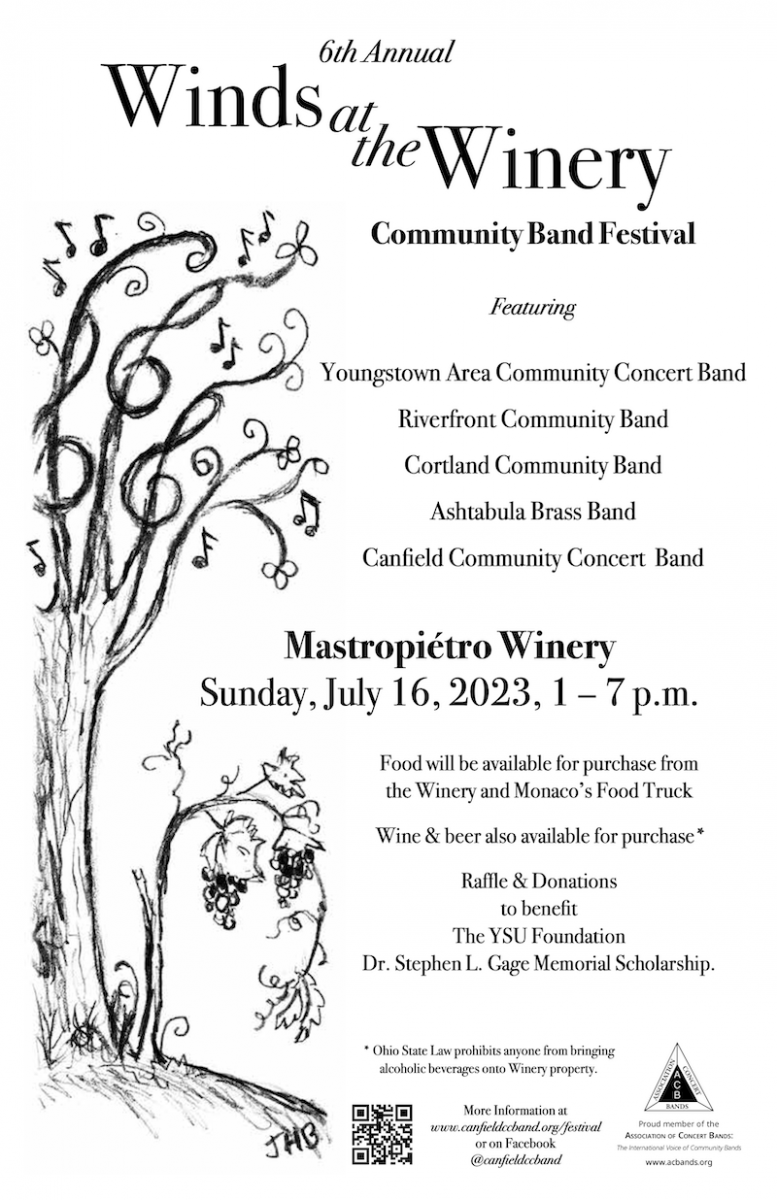 Youngstown Area Community Concert Band
The YACCB was founded in 1983, and is directed by Joseph Pellegrini. The 60+ member band performs 14-18 concerts a year throughout eastern Ohio and western Pennsylvania. The band rehearses at Bliss Hall on the campus of Youngstown State University. Find out more about the band at http://www.yaccb.org/ or on Facebook @YACCB.
Riverfront Community Band
Based in Cuyahoga Falls, Riverfront Community Band was originally founded in 1981 by the late Jack Scott as the Trinity Concert Band. The band was reorganized in 2022 with many of the original members, and has now become the "Riverfront Community Band." The band is currently under the direction of retired long time high school band director, Loretta K. Snell and has an active concert schedule. Find them on Facebook.
Cortland Community Band
The Cortland Community Band was formed in 1983 and currently has about 60 members led by director Craig Wiencek. The band performs throughout the year for events in Cortland, OH and nearby communities, entertaining audiences with a repertoire that includes Big Band, Broadway, Classical, March, Patriotic, Popular, and seasonal favorites. Find out more about the band at http://www.cortlandcommunityband.org/.
Ashtabula Brass Band
This band is based on the style of the traditional British brass band. They play several concerts a year in the Ashtabula area. They play all types of music, from classical to pop and are directed by Bo Violette. Find them on Facebook @AshtabulaBrassBand or on Twitter @ashtabula_brass.
Canfield Community Concert Band
The CCCB was founded in 1976 and is directed by Eric Bable. In addition to performing at outdoor venues during the summer, the band performs year-round including a major concert in the spring. Summer highlights include performing on the historic Canfield Green, the Canfield Fair, and hosting "Winds at the Winery."
Event Location
14558 Ellsworth Road, Berlin Center, OH 44401