COVID-19 Schedule Adjustments
Due to the coronavirus outbreak our events for the near future have been suspended. Our formal concert that was planned for late spring has been postponed for a date to be determined after social restrictions can be relaxed. All rehearsals and other events for the spring have been canceled. No decisions have been made yet for summer events, but we will evaluate them as the time comes, considering the safety of our members and our audiences and the guidance of public health officials.
We hope to be able to gather again soon to make music together and share it with our community, but in the meantime, we hope everyone stays health and safe.
Music to Your Mouth Chipotle Fundraiser
Tuesday, October 16, 2018 -
Support the Canfield Community Concert Band with your purchase of dinner at Chipotle in Canfield on October 16th from 4 to 8 pm. Mention the band to the cashier or show this fiyer and 33% of your purchase will be donated. Get complete details here and join our event on Facebook to let us know you'll be there!
Band members, we'll start rehearsal late to give everyone an opportunity to get dinner and support the fund raiser.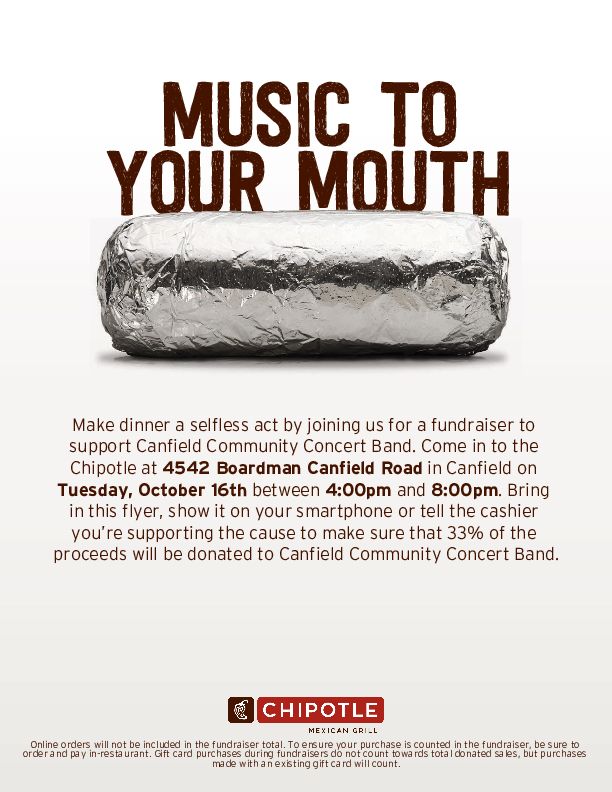 Event Location
4542 Boardman Canfield Road, Canfield, OH 44406