New Concert Season Begins with New Director
By

Mary Ellen Wilcox

, May 7, 2012 - 7:54am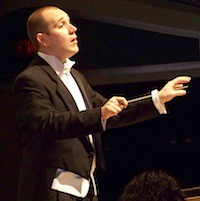 Brian T. Harris has recently been named the conductor of the Canfield Community Concert Band. He holds a master of music in instrumental conducting from Youngstown State University (2010) and a bachelor of science in music education from Indiana University of Pennsylvania (2003). While attending YSU, he worked with the Stambaugh Area Youth Concert Band and was the assistant director for the Lakeview Bulldog Marching Band.
Mr. Harris is currently the Director of Music at Cardinal Mooney Catholic High School. His previous teaching experiences have been as the director of bands at Blossburg Elementary/North Penn Jr. Sr. High School in Blossburg, PA; Bishop Carroll Catholic High School in Ebensburg, PA; and Lockerman Middle School in Denton, MD. Harris has directed marching band, concert band, and jazz band and has taught music history and theory.
A member of the Ohio Music Educators Association, Harris has participated in several conducting symposiums in Ohio and Pennsylvania as well as to The Midwest Clinic: An International Band and Orchestra Conference in Chicago, Illinois.
In addition to being a trombonist, Harris gives private instruction and has composed and arranged a variety of pieces for band and ensembles. A native of Derry Borough, PA, Mr. Harris resides in Struthers with his wife Melanie.
Harris would like to encourage area musicians to join the band stating, "Any musician who is in high school or older is welcome to come and play with the band. We have a lot of fun and we play well. If you're still in high school or college, it is a great way to keep your abilities fresh over the summer months."
Audiences should look forward to music of different styles and time periods from slow classical style works to music from the movies. "We are sure there will be something for everyone to enjoy," Harris said.
The first free concert of the 2012 summer concert series will be on Tuesday, May 15 at Copeland Oaks in Sebring, Ohio at 7:00pm.